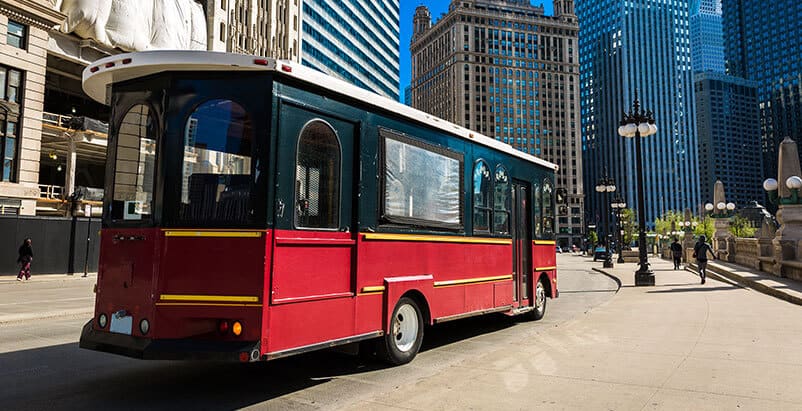 Experienced Chicago Accident Attorneys Handling Trolley, Bus and Boat Tour Accident Cases
Compassionate representation for mass transit or recreational accidents in Illinois
Trolley tours, sightseeing buses and boat tours are fun ways to experience the sights and sounds of Chicago. However, if these transit vehicles are not maintained or operated in a reasonable manner, the resulting injuries can be devastating. After an accident, the responsible parties need to be held accountable.
Gainsberg Law works with you to closely examine every aspect of your case to determine liability. We then advocate for your right to appropriate compensation for your injuries and hardship. Our Chicago sightseeing accident attorneys help locals and visitors get the help they need after they have been injured while on a tour.
Dependable advocacy for bus and trolley accident victims
Just like Chicago is synonymous with great hot dogs and deep dish pizza, you can't go more than a few steps before a sightseeing trolley rolls by. But all that hopping on and hopping off can put you in danger of being injured. A knowledgeable Chicago trolley accident attorney assists in determining the specific cause of an accident, so all liable parties are held accountable for their actions. Here are some causes of trolley accidents:
Distracted trolley drivers. Just like any vehicle operator, trolley drivers must pay close attention to the roadways. However, dispatch calls and passengers often demand the driver's attention. When drivers allow distractions to get in the way of their driving duties, accidents can result.
Defects in the trolley. The trolley company has a responsibility to maintain the vehicle in an adequate and safe manner. When accidents occur, it may be caused by a specific defective part or failure of the company to provide proper maintenance.
Other vehicle drivers. In accidents involving multiple vehicles, an investigation may determine that the driver of the other car holds some responsibility for the resulting injuries. In this situation, it may be proper to seek compensation from multiple parties.
Our firm's lawyers are prepared to help you determine the cause of your accident and who is at fault.
Efficient law firm serving the needs of boat tour accident victims
Chicago has water taxis, speedboats and duck tours, all of which offer a fun opportunity for both locals and tourists to enjoy a view of Chicago from the waterways. But negligent actions can quickly turn a fun tour into a tragic accident. Some common injuries resulting from boat tours include:
Drowning. Any time you're on the water, you should be offered some level of protection: a life vest, access to flotation devices, and railings designed to keep you in. If there is an accident, you face the risk of going overboard. In particular, the amphibious nature of the duck tour creates a substantial risk of drowning when accidents occur.
Neck and spinal injuries. When a boat collides with another object, it often causes a violent jolt to the passengers on board. This may cause damage and trauma to the neck or spinal cord.
Broken bones or lacerations. Passengers on certain kinds of tours are usually standing as the vessel moves through the water. These individuals may be thrown about during an accident, leading to broken bones or lacerations on the arms and legs. 
Recreational accidents often affect tourists who do not reside within Illinois. These individuals may leave the state without holding liable parties responsible. A Chicago boat tour accident lawyer knows how to fight for victims who were injured while sightseeing in our beautiful city.
Types of Cases We Handle
Our attorneys handle a variety of cases, including:
Affordable Chicagoland law firm fighting for the rights of recreational accident victims
The efficient and compassionate practice of Gainsberg Law is proud to offer experienced representation in your sightseeing accident case. We believe in putting the needs of our clients first. So, call us today at 312-600-9585 or fill out our contact form to schedule an initial consultation with our experienced Chicago tour injury attorneys today.