COVID-19 Winter Is Coming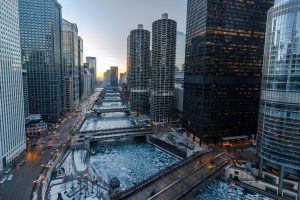 Every year, we anticipate the seasonal change from fall to winter. We expect the shortening of the days, the frigid weather, the holidays that mark the turn of the calendar, and the challenges this all brings. Winter in Chicago is always a bit treacherous, but this year could be much more dangerous because of the coronavirus pandemic.
Still – the need to be prepared remains the same, even if the steps we take are a little different. If you're planning on spending the winter in the Windy City, we have a few tips to help you make it through.
The basics of winter preparation in Chicago
By and large, advice for preparing for the winter season remains the same. Everything from making sure to slow down on icy roads to buying a sun lamp for Seasonal Affective Disorder (S.A.D.) make their way onto almost every list out there. However, with COVID-19 throwing a wrench into our plans, it is best to adapt some of these practices and adopt new ones to keep you and your loved ones safe.
Be prepared. Don't wait until the middle of the season to put chains on your tires, buy windshield wiper fluid, or make an emergency kit for your car. Stock up on cold weather necessities, too, for the days when you may be unable to travel at all: beans, broth, bottled water, and bread.
Stay informed. CDC guidelines along with Illinois travel recommendations should be followed as much as possible. Remember that emergency services are already strained, and it could take them longer to reach you in the event of a crash.
Have backup plans. As we head into the second wave of this pandemic, figure out virtual gathering ideas with family and friends to avoid possible infection. "Zoom" Christmas may ensure that you're able to see your relatives again for an in-person Memorial Day BBQ.
Don't risk it. Whether "it" means driving on dangerous roads or braving an in-person celebration, it is better to be safe than sorry now more than ever.
Perform self-care. Experts are seeing an increase of depression, anxiety, and other mental health disorders due to the stress of our current world. Take care of yourself, especially if you experience S.A.D. It's harder than ever right now, but it won't last forever.
Of course, not everything is avoidable or foreseeable. Part of your planning ahead should include knowing what to do if you're caught off-guard in a bad situation. This could be something as simple as bringing a mask to any in-person gathering, even if it's with your "circle," in case of unexpected guests. It could also mean planning for something more risky and immediately dangerous.
Understand the risks of traveling during a pandemic
Let's say you're traveling for work when you're hit with an unexpected snowstorm. As an essential worker, you cannot turn around and go home. Studies have shown this pandemic has actually made people more reckless and dangerous with their driving, which increases the risks even when you are being as safe as you can. Between their behavior, the snow, and the limited visibility, we can expect an increased number of accidents this year.
Keeping yourself informed will allow you to prepare for many situations, but it won't stop someone else from hitting your car. Therefore, the best way to protect yourself is to know where to go if that happens. Car crashes are unfortunately common, but this means there are experienced professionals you can trust to navigate the aftermath and help you recover. Make sure you have a skilled Illinois lawyer on your side who knows the ins and outs of such a scary event, including the type of collision, the laws that apply, and the compensation you could receive — even if you believe the crash might have been your fault.
An ounce of prevention is worth a pound of cure, they say. When even the best efforts to prevent a car accident fail, Gainsberg Law is there to help you move forward. If you or a loved one is injured in a car crash in Chicago this winter, we are here. Give us a call at 312-600-9585 or contact us today To schedule a free consultation.