Gainsberg Law Files a Negligence Lawsuit after CTA Bus Driver Runs Over a Man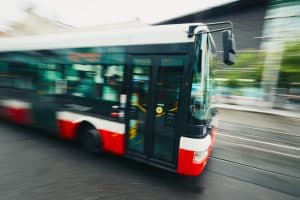 Gainsberg Law, P.C. has filed a lawsuit against the Chicago Transit Authority (CTA) and one of its bus drivers, Ms. Betty Day, on behalf of our client, Mr. Efrain Sanchez. Mr. Sanchez was attempting to get on a bus on September 1, 2018 when the driver closed the doors and drove away. Mr. Sanchez fell, and the driver ran over him, causing such extensive injuries to his leg that he has undergone almost 10 surgeries so far – and more may be scheduled.
During the course of his treatment, Mr. Sanchez also developed an infection, which led to the eventual amputation of his lower leg. Attorney Nick Kreitman officially filed the lawsuit in the Circuit Court of Cook County on October 18, 2018.
You can read the Chicago Sun Times report on the accident here.
What happened at the scene of the injury?
It was around 2:20 am on September 1st when Mr. Sanchez tried to board a bus, driven by Ms. Day, at Pulaski Avenue and Grand Avenue. The bus door opened, and Mr. Sanchez made his way to the door. Then, Ms. Day shut the door of the bus. Mr. Sanchez tried to knock on the glass, but Ms. Day started to pull away.
Mr. Sanchez was too close the bus when it started to move, and he fell. The bus then ran over him, and continued traveling north. At no time did Ms. Day appear to stop the bus to check on Mr. Sanchez, nor did she keep a "safe and proper lookout," as he lawsuit alleges, to ensure his safety. Video evidence shows that Ms. Day was fully aware of Mr. Sanchez's presence, yet she "Proceeded at a speed which was greater than reasonable and proper with regard to traffic conditions in the use of the way," and "failed to stop, slow down, or otherwise alter the speed, movement or direction of said vehicle when danger of collision with [our client was imminent."
Eventually, Ms. Day did stop the bus – after police pulled her over. She was issued no citations at that time, nor has she been issued any citations since, despite literally running over our client.
Why is the CTA named as a defendant?
Because CTA vehicles are considered common carriers, the duty of care they owe their passengers is not limited only to those passengers in the vehicle, but also to those boarding or exiting the vehicle. By not allowing Mr. Sanchez to board the bus, nor allowing his adequate time to reach a place of safety, this duty of care was violated. This was an entirely avoidable incident.
Ms. Day is an employee of the CTA. As such, they are responsible for her training, and for the actions of their employees. Ms. Day was operating a CTA bus on company time, performing her role as an employee of the company; she didn't steal a bus for a joyride. Because of this, the CTA can and should be held liable for the actions of its employee.
At Gainsberg Law, we have years of experience representing clients in actions against government agencies and authorities, including the Chicago Transit Authority. Our mission is to ensure that what happened to Mr. Sanchez never happens again to anyone else, and that he is properly compensated for his injuries. To learn more about our services, or to schedule a free consultation with an experienced Chicago bus accident lawyer, please call 312-600-9585 or fill out our contact form.