Staying Safe in the Winter Weather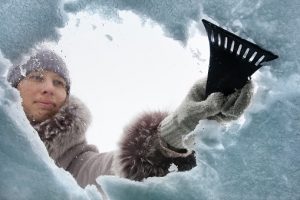 Chicago has already seen one record-breaking snowstorm this winter, and there are calls for more. We're pretty good at handling the bad weather, but every year, we read at least one story of a tragic death that could have been avoided. Now is the time to ensure your family's safety before more winter weather hits. We offer you these tips to keep yourself and your loved ones safe this winter.
Try to avoid driving when possible. Auto accidents are more likely with ice, snow and gravel covering the roadways. If you can stay home, do so. If you must drive, leave enough extra time to get to your destination, and keep on the alert for other cars.
Make sure your car is in peak condition. Check all of your fluids, especially your oil and windshield wiper fluid. Put air in your tires if you are low, and consider bringing the car in for a quick "checkup" if you can.
Double check your pipes and vents. The dust and lint from your dryer can build up and cause a house fire, and the outside pipes in your home can burst if you do not turn the water off. Make sure your vents are clean, your pipes are safe and your pilot light is working on your furnace.
Leave generators outside. Every year, we read at least once heartbreaking story about a family perishing in their homes because of the fumes from a generator. Keep the generator outside of the house completely and far enough away from your home so carbon monoxide does not leak in through the windows.
Charge all of your devices and buy extra batteries. Make sure you have flashlights and batteries, and that your cell phones and other mobile devices are charged. Candles will do in a pinch, but they can tip over and cause a house fire. With the roads in dangerous conditions, it may not be possible for the fire department to get to your house quickly enough.
Do not overexert yourself. Shoveling heavy, wet snow puts a lot of pressure on your body. Heart attacks and strokes are common this time of year because people overexert themselves in their desire to see the snow gone. Take lots of rests, and drink plenty of water to keep yourself hydrated.
Stay warm, but avoid dangerous heat-related behaviors. Never leave a fire unattended. Do not sleep with an electric blanket unless it is approved for overnight use. Wear appropriate winter clothing – hats, scarves, gloves, coats – if you go outside.
Winter weather increases your chances of having a car accident, but it also increases the chances of you suffering a serious injury or illness in other ways as well. If you are in an auto accident, take a fall on a patch of ice or suffer an injury because of another person's negligence, we hope you call the Chicago personal injury attorneys of Gainsberg Law at 312.548.9019, or fill out our contact form, and help us help you.