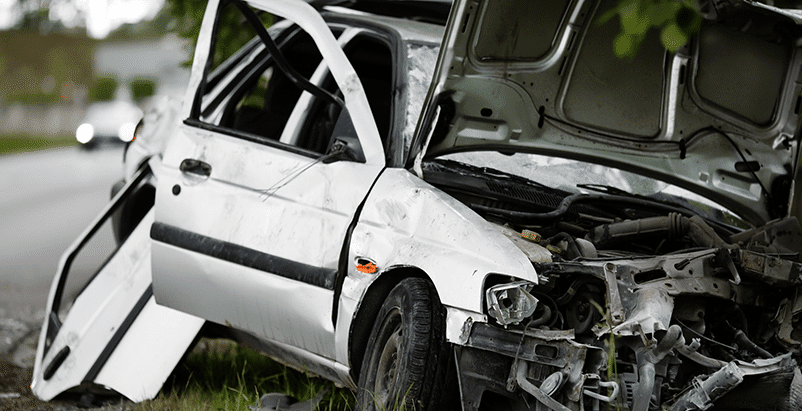 Chicago Car Incursion Lawyers
Helping passengers, pedestrians, and bystanders hurt by irresponsible drivers in Illinois
A vehicle incursion occurs when a driver loses control of their vehicle, causing it to smash into a building. A building strike accident can involve an incursion, but it can also involve a vehicle simply hitting a building (and any nearby people or property) without entering. Injured victims can include the driver, passengers inside the vehicle, and any bystanders or pedestrians who happen to be in its path.
The Chicago car incursion attorneys at Gainsberg Law have the experience to help injured victims and their families get justice for building strikes and other types of car incursion accidents. We fight on behalf of clients throughout Illinois. We also bring claims on behalf of property owners who suffer financial loss due to the cost to repair and replace what was damaged.
Why do car incursion accidents happen in Chicago?
Car incursions typically occur due to the failure of the driver to carefully consider the safety of others. They are completely irresponsible acts. Some of the reasons car incursions happen are:
Drunk driving
Driving while under the influence of narcotics
Driving while distracted because of texting, talking on a phone, eating, or for other reasons
Fatigued driving
Failing to obey local traffic laws
Car incursions can also be due to a defective car part. If the brakes or steering fail to operate as they should, then our Chicago car incursion lawyers will bring product liability claims against the manufacturers, distributors, and sellers of the malfunctioning parts.
How common are building strikes?
In the movies, scenes of cars crashing into office buildings, malls, restaurants, and other buildings usually only cause harm to the car and the building. In real life, when a car crashes into a building with many people inside, the people inside are likely to be killed or severely injured. Often, a building crash is catastrophic. The people inside have no way of getting out of the way.
Building strikes happen much more often than you might think. According to the  Storefront Safety Council: Every year, there are nearly 22,000 crashes into "stores, offices, bus stops, shopping centers, post offices, restaurants, and storefronts." These building crashes severely injure 4,000 patrons, employees, and pedestrians yearly. The estimates are that almost 500 people (10 each week) die from a building strike.
The data for 2022 is even more alarming. Storefront strikes happened 100 times a day. Nearly half of these crashes caused injuries and eight percent caused fatalities.
The most common causes of building strikes are:
Operator error: 21 percent
Pedal error: 20 percent
Drunk driving: 15 percent
Traffic accident: 12 percent
Medical Emergency: 9 percent
The most common locations are:
Retail stores: 23.5 percent
Restaurants: 19.4 percent
Commercial buildings: 11.2 percent
Office buildings: 8.2 percent
Convenience stores: 6.1 percent
Government buildings: 3.1 percent
Nearly 40 percent of buildings strikes are caused by people 60 and older.
Who is liable for a Chicago car incursion accident in Chicago?
Car incursion accidents (all types) happen for many different reasons. The responsible people and businesses include:
Drivers. Common reasons for Chicago car incursions include driver distraction (texting while driving, using a cell phone, looking at a GPS, eating, or drinking), drunken driving, speeding and other traffic violations, driver fatigue, reckless driving, and speeding. Heart attacks and other emergency health disorders may also cause a car incursion accident in Illinois.
Property owners/managers. Common reasons for building and roadway car incursions include poor visibility, poor lighting, poor signage and instructions, and uneven pavements. If a property owner/manager fails to take reasonable precautions to prevent injuries – like adding pedestrian bollards or changing the position of parking spots – he or she may be liable.
Manufacturers. Defective tires, brakes, steering, turn signals, and other car parts can cause a car incursion accident in Chicago.
Other possible defendants include the employers of any negligent drivers, the owners of the vehicles involved in the crash if the owners are different from the driver, the Illinois Department of Transportation, and other state agencies or entities.
We file personal injury claims and product liability claims if you are injured in a Chicago car incursion accident. We also file complaints on behalf of the property owners for the damage to their buildings, road structures, and other types of property.
Do you represent families when car incursions kill someone?
Car incursions frequently cause death because the bystander can't get out of the way of the car. Cars that strike a building can cause death as well. When death occurs, a Chicago car incursion attorney at our firm will file a wrongful death claim on behalf of the family of the victim. We demand payment for the loss of financial services and emotional support the deceased would have given to family members — as well as payment for funeral bills.
Do you have a car incursion accident lawyer near me?
Gainsberg Law meets personal injury victims and families at our office located at 77 W Washington Street, Suite 1215. We're located in downtown Chicago. If you need to use public transportation, there are two bus stops right nearby. Our Chicago car incursion lawyers conduct video conferences by appointment. We also meet clients at a hospital if they cannot come to our office.
We're respected by former clients, insurance companies, and defense lawyers for our impressive record of strong settlements and verdicts.
Speak with an experienced Chicago car incursion lawyer now
At Gainsberg Law, our Chicago car incursion lawyers understand why car incursions happen and how to prove fault. We represent injured victims and property owners. Our lawyers leave no stone unturned to hold wrongdoers accountable for their reckless behavior. To get answers to your questions and assert your right to compensation, please call our firm today or use our contact form to schedule a free consultation.
Related Articles: