Comparative Negligence and Liability on Chicago Multi-Car Crashes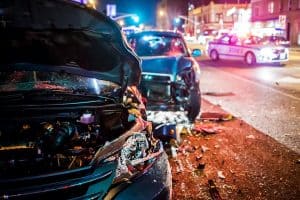 According to the National Highway Traffic Safety Administration (NHTSA), four in 10 deaths that occur as a result of car crashes have more than one vehicle involved. Often, the at-fault party is obvious when a collision occurs between two vehicles. However, in a multi-vehicle or chain reaction crash, determining fault and liability can be a much more complex endeavor.
A recent car crash in Chicago demonstrates how easily and quickly a multi-car collision can occur.
In the Gage Park neighborhood of Chicago, a nine car pileup occurred in which police investigators determined two vehicles were speeding late at night in the 3000 block of W. 55th St. One vehicle crossed over the median into oncoming traffic. This caused a chain reaction with the first car side wiping two others, and the others subsequently losing control and also colliding with parked cars. Seven of the vehicles involved in the crash were actually parked.
Comparative negligence and assigning fault
Negligence may be assigned to a particular driver depending on the circumstances of the crash – for instance, if the driver violated the traffic regulation, statute, or ordinance. If this is the case, the conduct of the driver may be considered evidence of negligence or result in a rebuttable presumption of negligence. The actions of each party involved in a multi-car pileup must be examined carefully with the result that the compensation provided to the plaintiff is reduced.
In multi-car collisions, liability may rest with multiple parties under the doctrine of comparative negligence. For instance, one driver may be texting-while-driving while another car makes a left turn into an intersection through a red light. Both vehicles collide and subsequently slide into several other vehicles as well. Both drivers may be assigned fault for the crash and any injuries that occur.
Under a different doctrine referred to as contributory negligence, plaintiffs who are deemed partially at fault for an accident are not permitted to recover any compensation from defendants. However, Illinois operates under a modified comparative negligence system in which the plaintiff may recover damages based on what extent they are determined to be at fault for the accident. For instance, a plaintiff shown to be 30 percent at fault for crash may have their recovery reduced by that same percentage.
Modified comparative negligence enables the plaintiff to recover compensation for their injuries provided that the plaintiff's percentage of fault in the crash is 50 percent or less. When multiple defendants are involved who may each potentially carry a percentage of the fault, a jury can assign those percentages to each party. It is the obligation of the plaintiff to prove any particular defendant was contributorily negligent. The ultimate decision regarding the negligence of any party is normally decided by a jury in these cases.
At Gainsberg Law, we understand the complexities of multi-vehicle crashes and know how to pinpoint the responsible parties in any particular incident. If you or a loved one has suffered injuries in a multi-car pileup, let us help. We will use our resources and experience to help you secure the financial compensation you need to recover from your losses. To schedule a free, initial consultation about your case, call our Chicago law office today at 312-600-9585 or send us a message through our contact form.