Hazardous Conditions on Stevenson Expressway May Have Caused Fatal Crash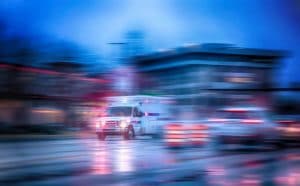 Around 4:15 am this morning, a car plunged 70 feet off of an overpass on the Stevenson Expressway and landed the below. The crash left two people dead and two in critical condition; all four people were in the vehicle at the time, and there were no other victims. The force of the crash broke the car into pieces.
NBC 5 reports "Illinois State Police said a vehicle hit the right concrete wall on I-55 northbound and went over the concrete median." According to ABC 7, there is a snowbank on the overpass right where the driver appears to have lost control of the car.
This is a particularly horrific type of tragedy. We are hoping and praying for a full recovery for the survivors.
Compacted snow is dangerous for drivers
Chicago has been getting a lot of snow, as is usual this time of year. But just because we're used to snow doesn't mean that the roads are any safer. This is because snow compacts when pressure is added, making it slicker and more dangerous. There are other risks when cars and trucks keep traveling over snow, too: the more tired over a patch of snow, the warmer it becomes. That snow will melt, but can eventually refreeze, creating black ice. Black ice, as we all know, is especially dangerous because it's almost impossible to see. In 2018 alone, it caused more than 130 car accidents. It was also responsible for the 60-car pileup on the Kennedy Expressway last year.
Bridges do freeze before roadways
The tragic crash on I-55 happened on an overpass. Overpasses, like bridges, freeze more quickly than roads do. King 5 News in Washington explains why:
Bridges, overpasses, or any elevated roads cool quicker because cold air surrounds it from all sides. Unlike surface roads, elevated roadways have no way to store heat and will ice over quicker when the temperatures drop below freezing.
Also, many bridges and overpasses are made from steel and concrete, which are good conductors of heat. This means the structure will easily lose heat because of the cold air surrounding it.
Asphalt, which most roads are made of, doesn't conduct heat well. Roads on top of the ground retain more heat during freezing temperatures, therefore taking longer for the roadway to become icy.
If the initial reports saying there was a snowbank on the overpass are correct, it is possible that melting and refreezing snow created slick conditions. These conditions could easily lead to a driver losing control and being killed in the resulting crash.
Winter isn't even close to done, and roads will continue to be dangerous here in Chicago. Please stay safe out there.