Vision Loss as a Catastrophic Injury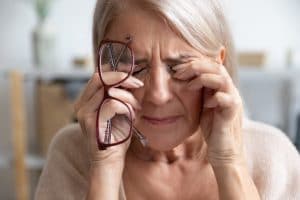 Although loss of vision, either partially or completely, is not an immediate life-threatening condition, it can significantly alter your quality and enjoyment of life. Vision loss can occur as a result of burn injuries, traumatic brain injuries, and other injuries and conditions. The sudden disappearance of one's vision, which we depend on so much for our daily activities and living life in general, can be extremely devastating for the victim, both practically and mentally/emotionally.
A person with catastrophic vision loss often needs to re-learn how to perform various functions in life. It can be a difficult road to travel to take care of oneself and adjust to life-changing circumstances. If your or your loved one's vision loss was caused by another's negligence, you may be eligible for a personal injury claim – ensuring your medical and financial needs are taken care of.
Common causes of a catastrophic vision loss injury
Sudden vision loss can occur due to any type of trauma to the brain or face. During a car accident, if an airbag strikes the face and eyes with enough force, it can cause blurry or limited vision. If the damage to the eye is severe enough, removal of the eye completely may be necessary. A person suffering burns in a fire or explosion may also suffer blindness for a period of time or even permanently. Often, these injuries heal, but some damage may remain, which makes them catastrophic in nature.
Sometimes there is no direct trauma to the eye, but vision loss still occurs. Traumatic brain injury can affect the brain's vision center and cause partial or total loss of sight. Medical malpractice may also result in vision loss if a doctor makes a surgical error or improperly diagnoses a patient's neurological condition. Negligence is often the cause in all of these scenarios.
Damages resulting from catastrophic vision loss
Catastrophic vision loss can prevent a person from performing the most basic, everyday life functions, such as working, reading, and driving. When the loss becomes permanent, the rest of the person's life is affected in numerous ways that most of us take for granted.
Due to the significant life impact upon victims of catastrophic vision loss, the damages awarded in successful claims can be significant. An experienced Chicago injury attorney can effectively pursue all the damages owed to a victim, including:
Lost income
Medical costs
Loss of income-earning ability (if a person is not able to work again)
Pain and suffering
Reduced quality of life
Expenses related to continuing care or treatment (for example, prescription lenses)
At Gainsberg Law P.C., we possess the resources and experience necessary to hold responsible parties liable for the injuries they cause. If another party has caused you or your loved one to suffer a devastating vision loss injury, our Chicago attorneys are here to help. We fight relentlessly to help you secure the compensation you are owed under the law. To arrange a free, no-obligation case review, give our law office a call today at 312.600.9585 or send us a message through our contact form.