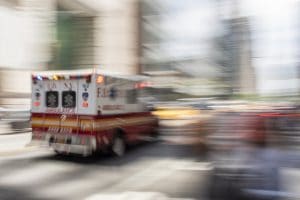 Blast injuries are often deadly. For survivors, their life can be changed in an instant. Many blast injuries cause permanent injuries which can leave the victim completely disabled. Even victims who can return to work and can resume some semblance of a normal life need extensive medical and rehabilitative care. Many victims need medical treatment for the rest of their lives. Most accident victims with blast injuries do lose some ability to function normally and do lose the ability to enjoy all of life's pleasures.
California Hospitals Prepare discusses many different types of injuries. The discussion reviews general injuries concerns that need to be addressed immediately and specific injuries that affect a particular part of the anatomy or psyche. Specific types include:
Crush injuries and crush syndrome
Ear blast injuries
Blast extremity Injuries
Eye blast injuries
Blast lung injuries
Mental health disorders
Injuries to older adults
Pediatrics
Post exposure prophylaxis for bloodborne pathogens
General blast injury concerns
Many blast injury victims suffer penetrating injuries and blunt trauma. Some other traits that are common to blast injury victims are:
About half of all blast injury victims seek medical care within one hour of the blast
The most severely injured victims need EMS triage while the less severely injury victims go directly to their nearest hospital
Explosions in confined areas (such as large vehicles, mines, and building) and explosions due to structural collapse generally result in higher death rates
Blast injury victims need to be examined repeatedly
"Universal precautions effectively protect against radiological secondary contamination of first responders and first receivers"
Blast injury categories
Blast injuries are divided into the following four categories:
These are injuries "from over-pressurization force (blast wave) impacting the body surface." Examples include "TM rupture, pulmonary damage and air embolization." Medical providers need to check for:

Lung injuries which may be present immediately but may take 48 hours to develop. Lung injuries are more common in patients who have skull fractures, severe head or torso trauma, or extensive burn injuries. Symptoms of lung injuries include coughs, dyspnea, hemoptysis, or chest pain.
Abdominal injuries. Physicians, nurses, and EMTs need to check vulnerable gas-filled structures such as the colon, bowel perforation, and hemorrhages. Symptoms include "abdominal pain, nausea, vomiting, hematemesis, rectal pain, tenesmus, testicular pain, and unexplained hypovolemia."
Ear injuries. The most common primary blast ear injury is tympanic membrane. Ear injury symptoms include loss of hearing, tinnitus, vertigo, otalgia, and other disorders.
Other injuries. These injuries include traumatic amputation, concussions, compartment syndrome, exposure to toxins and eye injuries.

These are injuries from flying debris. Examples include "penetrating trauma, fragmentation injuries, and blunt trauma."
These injuries occur due to "displacement of victim by the blast wind." Injuries include fractures, traumatic amputations, and blunt/penetrating trauma.
This category covers the remaining types of injuries such as "crush injuries, burns, asphyxia, toxic exposures, and exacerbations of chronic illness"
Each type of specific injury, such as hearing loss, has its own set of clinical presentation issues, initial management requirements, and treatments, as well as its own benchmarks for prognosis and improvement.
At Gainsberg Law, we handle construction, personal injury, and product injuries. For 20 years, Chicago injury attorney Neal S. Gainsberg has been fighting to hold individuals and companies liable for the deaths and injuries they cause. We have the experience and resources to help accident victims and families of deceased victims get justice. We demand compensation for your physical pain, emotional suffering, loss of function, medical bills, and lost wages. In egregious cases, we demand punitive damages. To speak with a premier Illinois accident lawyer, call us at 312.600.9585 or use our contact form to schedule an appointment.