Why High Winds Increase the Risk of a Truck Crash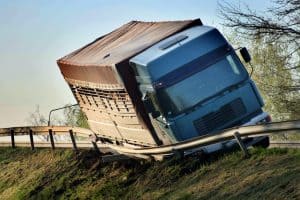 Heavy winds are a known danger to truck drivers and truck companies. Strong winds can cause the cargo in the vehicle to shift. Excessive winds can literally pick up the side of a rig and cause the truck to shake. If a driver loses control of the vehicle, the truck can rollover. Cargo can spill onto the highway creating havoc and the possibility of multi-vehicle accidents. Truck drivers and companies should be held accountable if they fail to prepare themselves for heavy winds.
High wind safety recommendations
Our Chicago truck accident lawyers examine whether the driver and the company that hired the driver take the following safety precautions:
Check weather reports. Today, the weather can be accessed around the clock. Drivers should check for more than just the likelihood of rain or snow. They should have a reasonably good idea what the wind forecast is for their journey. If heavy winds are predicted, drivers should make certain the cargo shipment is secure. They should understand how to respond to winds. Drivers and trucking companies, if the winds are too high, should make sure the driver gets off the road until the weather improves.
Reduce speed if winds are too strong. Drivers have better control when they go slower. Trucks that are going slower also need less time to stop.
Avoid empty trailers. Trailers that don't have any cargo in them are more prone to move around if the winds are heavy. The right balance between too little cargo and too much cargo should be maintained.
Inspect the truck before driving. Drivers should make sure the doors are securely closed and the cargo is fully secured.
Look for clues that the wind is strong. Shaking stop sings, swinging traffic signals, whistling trees, and moving grass are just some of the signs that the wind is really blowing.
Drivers should also avoid any distractions such as texting while driving. Truck drivers should never drive if they've had too much to drink. Drivers should have a good feel for how much wind will affect their driving.
At Gainsberg Law, our truck accident lawyers have obtained numerous large verdicts and settled many cases for our clients. Our Chicago attorneys are respected for their ability to investigate, strategize, and prepare your case. To schedule a free consultation, please phone us at 312-600-9585 or use our contact form.