Pedestrian Accidents Spike Around the Holidays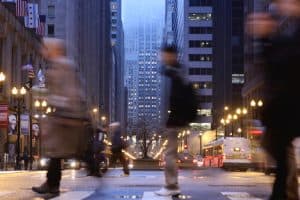 Winter, and the holiday season, has arrived, and so has the mad rush of shoppers in Chicago. During this busy time of year, it is easy to get distracted when trying to cross everything off your list. However, it is more important than ever to stay alert and pay attention to your surroundings and ensure you can spend the holidays at home safe with your loved ones.
Shopping centers and malls can be dangerous for pedestrians. More than 50,000 accidents occur in parking lots and garages every year, with 500 deaths and 60,000 injuries. And, 66 percent of drivers admit to driving while distracted in a parking lot [EHS]. This is a recipe for disaster when you mix cars and pedestrians. Even though cars in parking lots tend to travel at lower speeds, accidents are still dangerous for everyone involved—but especially the pedestrian.
Distracted drivers pose a huge threat to pedestrians, who run the risk of getting hit by a car simply by legally walking through a parking lot. Drivers get distracted for many reasons, including:
Pedestrian safety tips
Even though you cannot control the behavior of those around you, you can take some steps to protect yourself. Follow these tips to keep yourself safer in parking lots and garages:
Stay inside marked crosswalks
Stay alert—always look and listen for vehicles
Keep in mind that vehicles have blind spots, so they may not see you
Stay in the main aisles of the parking lot and do not dart between parked cars
Stay in well-lit areas
Do not engage in "distracted walking," either—you cannot give your full attention to walking if you are texting or having a conversation
Driver safety tips
As a driver, you have a responsibility to obey traffic laws and yield to pedestrians. In parking lots and garages, ensure safety to yourself and those around you by:
Drive only the posted speed limit or lower (usually 10mph)
Pull forward into parking spaces if possible, so you do not have to back out when leaving
Always take an extra look around you before backing up or use a rear camera system if possible
Remember parking garages have very tight corners, lower ceilings, and dimmer lighting—you always must exercise extra caution
Never drive distracted; take care of your GPS, texts, or phone calls before you start your car
Pedestrians do not have the same protection as a driver when it comes to an accident. If you are hit by a car, your injuries can range from serious to catastrophic. Our experienced and caring lawyers can help you navigate the legal process and seek compensation.
If you or a loved one are injured and need assistance, the Chicago attorneys at Gainsberg Law, P.C. are here for you. For help with your case, please call us at 312-600-9585 or complete our contact form.
Related Articles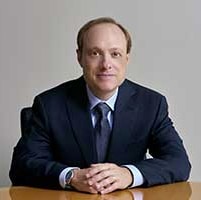 Neal S. Gainsberg has spent the last 20 years fighting to protect the rights of the injured in Chicago and throughout Illinois. From consumer rights and bankruptcy to catastrophic injuries and wrongful death, Mr. Gainsberg stands up to large corporations, insurance companies, creditors and hospital administrators to ensure that his clients' futures are safe and secure. Learn More